We repair your endoscope technology in case of damage – professionally and cost-effectively!
We are your experts for flexible endoscopes!
You and your interests are our focus! In accordance with our philosophy, we will advise you on all implementation options, paying particular attention to cost efficiency. In most cases, a professional repair of the existing device can replace an expensive new purchase and thus represents a resource-saving and inexpensive solution from the customer's point of view.
We offer you manufacturer-independent endoscope repairs from experts. We specialised for devices made by Olympus, Pentax and Fujinon.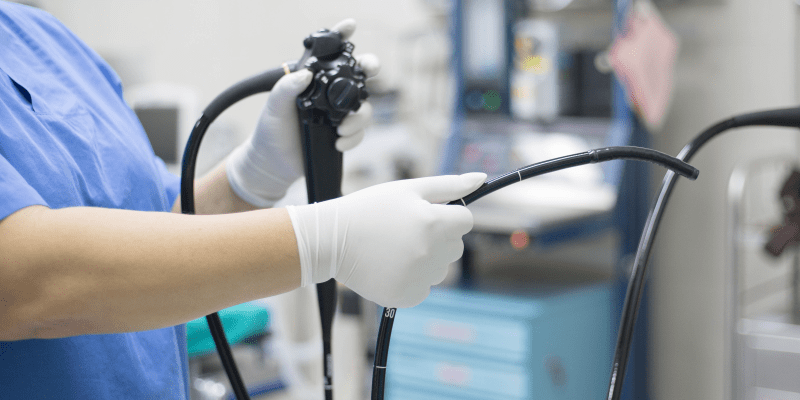 Repairing increases the performance and lifespan of your endoscopy equipment!
We want to exceed your expectations!
We maintain a close and trusting relationship with our clients. We put our skills at your service, because a high level of customer satisfaction on your part based on high-quality services on our part are the best links!
Our technicians have the necessary knowledge, technical skills and experience to repair flexible endoscopes, processors and light sources. We strive to constantly train our technicians as well as adapt our repair and maintenance processes to current standards.
After all, repairing your endoscope is all about minimising the restrictions in your doctor's office or hospital – in other words, minimising the downtime of the technology.
Use our endoscope repair service!
Repair procedure
Notification of damage / collection order
Use our form or the various options that we offer you on our contact page to report the damage to us. If there is any externally visible damage, you can also send us a picture.
Alternatively, you can directly pass a pick-up order. Take your chances on our service for loan devices during the repair-related downtime of your defective endoscope!
Analysis
Due to our many years of experience, your damage report in connection with the device class is usually sufficient for us to decide whether we can carry out an on-site analysis or whether your device must be brought to our business premises. A partial disassembly during the analysis may be necessary due to errors. We will clarify with you in all cases whether we will check the device at your location or whether it would be better to pick it up by an express courier service. However, the on-site service is limited to a radius of 250 km!
Cost estimate
You will receive a detailed and free of charge cost estimate from us within 24 hours of the analysis – non-binding of course. Of course, we will also answer all your questions about repairs. If the repair turns out to be uneconomical while analysing, you will receive a repair exchange offer from us!
Release declaration
This is followed by the most important step for you – the written approval of the cost estimate. With this approval, you automatically instruct us to carry out the repair for you as quickly as possible.
Repair
In suitable cases, the damage will be repaired directly in your doctor's office or hospital; otherwise our technicians will repair any existing damage to your device in our workshop while we provide you with a loaner, depending on stock. This service is free of charge; you only pay for the shipping!
Here, too, the on-site repair is limited to a radius of 250 km, but if possible it is carried out immediately after the analysis – it doesn't get any faster!
Outgoing inspection
After the successful repair, we carry out an intensive outgoing inspection to ensure the optimal quality for your endoscope device.
Return shipping
Any return shipping to your doctor's office or hospital will again be carried out by express so that your device can be returned to use as quickly as possible.
Faulty endoscopy technology? We'll take care of it!
Fast repair

Keep potential disruptions in your doctor's office or in your hospital at minimum as a result of optimized processes and highly qualified specialists in our company

High cost efficiency

Benefit from our first class recommendations and implementation by our experienced staff. Our goals is to find the best solutions together with you at the best lowest price point.

On-site service

We will gladly pay you a visit to to carry out analysis and repairs on site. Due to our many years of experience – it doesn't get any faster (within a 250 km range)

Loan equipment service

Use our service of high-quality loan devices during the downtime of your defective endoscope (limited to stock)

Without a maintenance contract

No subscription or other maintenance contract, but one-time and sustainable repair work

First class service

Our clients always come first!
Typical defects and damage to repairable endoscopes