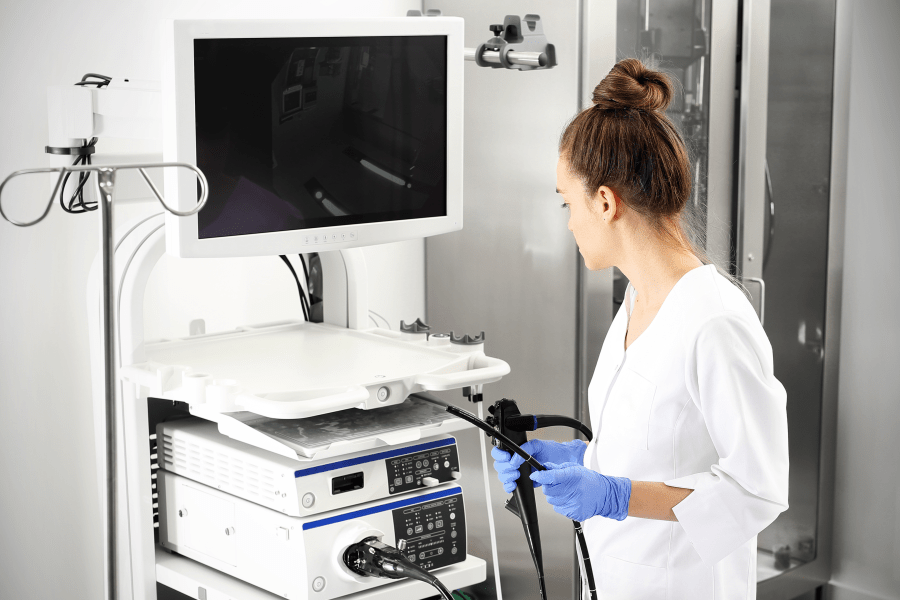 Complete endoscopy systems
Endoscopy is one of the most important tools in the diagnostic assessment of medical problems. The cost-effective and efficient use of medical devices and the smooth flow of treatments are the goals when planning and setting up every new or redesigning an existing endoscopy department in medical doctor's offices and hospitals. Professionally tested or repaired used devices are the perfect solution for those who are looking for a reliable but inexpensive alternative to new devices. We support you – with manufacturer-neutral advice – in choosing the right single device or complete system (endoscopy tower).
Endoscope devices
Video endoscopes (Olympus, Pentax & Fujinon)

Gastroscope
Colonoscope
Bronchoscope
Cystoscope
etc.

We advise you on choosing the right medical endoscope!

Endoscopy tower

Medical endoscope
Processor
Light source
Monitor
etc.

We implement your wishes in the product selection and also set them up!

Endocopy accessories

Biopsy forceps
Polypectomy snare
cleaning brush
etc.

We also provide you with accessories and consumables!
We are more than just a supplier, we are your partner!
Planning and setting up your endoscopy unit
We know the answer to your questions about endoscopes!
Step
Advice and planning
Together with you, we analyze your area of ​​application and use this to advise you on the planning and choice of the right endoscopy unit – e.g. type and number of endoscopes, suitable processors and light sources, monitors, suction pumps, suitable accessories and much more.
Step
Ordering and scheduling
After the planning, the practical part begins, as always: In our company, we begin the construction of your endoscopes and, if necessary, procure individual components for the commisioned endoscopy tower. Finally, we will arrange a delivery / assembly date with you in accordance with your individual schedule.
Step
Delivery and installation
On of our scopeREPAIR GmbH technician comes to your doctor's office or hospital at the agreed appointment and takes care of the installation and connection of the technology as well as the integration into your diagnostic system landscape.
Step
Instruction and training
Now it's your turn, because next we will introduce you and your team to the handling of endoscopy technology and train you in the hygienic preparation of the endoscopy unit and the accessories.
Step
Repair, testing and maintenance
We are of course at your disposal even after our installation work has been completed. Even after completing the installation or the redesign of your existing endoscopy section, we are of course available for repairs, maintenance and testing activities.